RE-THINK: A New Lens on Chicago
Welcome back to RE-THINK, a blog where our staff members will be sharing their thoughts on their experiences working at the Br. David Darst Center. Today's post is from Emily Becker, one of our new Retreat Facilitators and Summer Interns! In her post, she shares her thoughts on social justice, leading retreats and why Chicago's best days are yet to come. 
Hello Darst Center community and friends!
My name is Emily Becker and I am interning here at the Darst Center this summer working on programming and co-facilitating urban immersion retreats. I am so excited about having the opportunity to be part of the Darst Center team and it has been a great summer so far!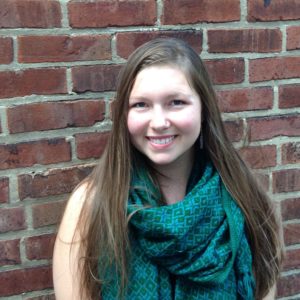 A little bit about me: I just graduated from DePaul University here in Chicago with a BA in Sociology with a minor in Spanish. Something that really formed my college experience while at DePaul was the legacy of Saint Louise de Marillac and Saint Vincent DePaul who worked tirelessly to create a more just and compassionate society. As a student at DePaul, I was able to travel to many cities across the United States and abroad on various immersion trips and learning opportunities as both a participant and a trip leader. Having these experiences to look back on as I engage with the Darst community and student participants here, I have been able to make so many connections between DePaul's legacy and the mission we hold here at the Darst Center.
I am passionate about equitable educational opportunities for all. For the last four years, I have had the privilege of working with students in Chicago as both a mentor and yoga teacher. Because of my experiences, I believe that empowerment is the key to achieving equality and I have become a huge advocate for service based on social justice.
Last week, I had my first ever Darst retreat with a group of students and their chaperones from Loyola Academy in Wilmette, IL. This group of students was local, having come from the city of Chicago and the surrounding suburbs. Therefore, I was excited to meet them and hear about their experiences and perceptions about Chicago. I was encouraged by the group's overall willingness to be open, vulnerable, and honest with one another. This, I think, led us to have great discussions during reflection. They were very hands-on and willing to participate in whatever capacity and it was awesome to watch their enthusiasm as we grew together.
Being from Chicagoland, these teens already had a strong sense of their surroundings and the issues that Chicagoans face. However, I wanted to challenge our group deeper—to be open to learning something new while embracing new information. Perhaps the greatest gift that the Loyola Academy gave me was their commitment to continue to learn and promote positive change in the city they love.
Like many of the students from Loyola Academy last week, Chicago has been my home for quite a while. I am always amazed at the resilience, creativity, and love in action that is present here. While the city still has a lot of work to do on the path to justice and equity, there are so many organizations and individuals here working to create a better world.
That said, I am motivated to continue asking questions, looking beyond perceptions, and challenging myself to open my heart even more to the place I call home. I cannot wait to meet more students and walk with them through their experiences here at the Darst Center.
You can share this story by using your social accounts: