RETHINK-Talking Transitions, Food, and Philanthropy with Frank Thomas
"Frank Thomas...as in The Big Hurt, right"
That was the incredulous response I got recently from one of the Darst Center's board members when I had shared my recent good fortune of getting to interview Chicago White Sox legend Frank Thomas. "How exactly did that happen?"
The short answer was that I wasn't quite sure. But for whatever reason, my past life as a freelance writer afforded me the ability to spend 10 min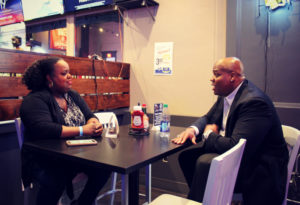 utes with one of baseball's greatest players this past November.
Happy Accidents
You see, prior to coming to work at the Center, I had found minor success as a local area food blogger. To be honest, the whole thing happened by accident when I was laid off four years ago. As I searched for a new position, I realized that I no longer had the desire to return to the field of sales and marketing that made up the first 20 years of my career. This was mainly because while I was good at closing big deals, there was a lot about the work that left me feeling cold and empty. Especially when it came to business practices that I sometimes encountered that seemed less than ethical.
Therefore, when offered the chance to dive head first into yet another account executive position, I decided to consider what would make me happy instead. And as it turned out, it wasn't another commission check as it was the chance to see if I could hack it as a writer.
So, while answering countless want ads, I decided to blog about my favorite Pepsi Pot Roast recipe. And soon after found myself on television promoting a startup's food tours, ghostwriting for a TED talk marketing guru, and interviewing interior designers for magazines on the East Coast.
True, it was fun work. But it was also really exhausting as I found myself negotiating constantly writing contracts and scrambling to get new writing gigs.
Eventually, I left the constant hustle of freelancing behind when I was offered a position at the Darst Center. However, I still get the rare invitation to hobnob with Chicago area big wigs. I mostly ignore them-having observed a long ago that I'm not ready for prime time and was far more satisfied writing grants instead of nearly falling out of way too-high heels at the First Look for Charity Gala (yep, that actually happened). But when I got the invite to meet Frank as part of the grand opening of his new Berwyn restaurant, 35 Sports Bar & Grill, I turned to our long-term volunteer Carly and asked if she wanted to join me for a opportunity to meet the baseball legend.
We were hoping for a chance sample some really great food and perhaps sneak in a question or two about social justice. So armed with Carly's incredible photography skills and some admittedly questionable press credentials, we made our way to the suburbs to cover the grand opening.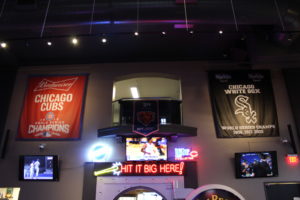 A Space Reborn
The first thing that you notice when entering Frank's place is the beautiful architecture inside. The restaurant was housed in what was formerly known as the Berwyn National Bank. Originally opened in the 1920's, the space laid dormant for many years until Frank was approached by the Berwyn's mayor to see if he would be interested in opening a restaurant in the historic spot.
Even though much of the original interiors was updated to make way for big screen TVs and sports memorabilia, Frank and his team was careful to keep a lot of the room's character behind. So there was plenty of dark wooden molding as a well as perfectly preserved vaulted glass ceiling from the bank's heyday. It may sound like an odd mixture but it worked. And everyone I spoke to was in awe of how gorgeous the end result was.
Of course, the awe inspiring club couldn't hold a candle to seeing Thomas himself. Carly and I both agreed on this as he confidently strode past us while we awaited our interview time.
Simply put, Frank is a giant. Seriously. At 6' 5" and impeccably dressed in a dark suit, he resembled a mini- Shaquille O' Neal.
"He's going to have to hold the camera when we take the picture," Carly said with a laugh. "because he's massive."
While we jokingly tried to work out the logistics of photographing him, the specially prepared buffet was opened for the press to sample.

Burgers, hot wings, Chicken Tinga Tostadas, Quesadillas. All the dishes served was pretty standard sports bar fare but so, so good. Especially the burgers.  We were happily digging into our samples when we were told that Frank was waiting to speak with us.
Meeting the Big Hurt
The second thing you notice about Frank is how incredibly laid back and friendly he is. There were no PR handlers standing nearby (as you often find at celebrity meet and greets) to temper his message. Instead, he was sitting by himself at a well-lit table near the bar's entrance. When we arrived, he reached out happily with a huge smile and a hearty handshake.
I admit I was feeling pretty nervous, so I told him about when the first time I saw him was on a poster on my now-husband's dorm room wall.
"That's pretty impressive," he said with a chuckle. "Does he still have the poster."
"Nope," I answered. "But a bobble-head made in your image currently sits on his desk at Tribune Tower. Along with an unopened can of Big Hurt beer. "
Having broken the ice, we began chatting about what led him from the dugout to the restaurant business. As it turns out, owning a sports bar was a long held dream of Frank's.
"I played baseball for 19 years, so you can imagine that I spent a lot of time in sports bars while on the road," he explained. "Unfortunately I didn't have the time necessary to devote to running one so it was always on my mind to start one when the opportunity presented itself."
Eventually, the window to do so opened up through a 2016 marketing campaign with Buona Beef. During the promotion, he developed a great enough relationship with the corporate office to propose working together on his dream space. As luck would have it, they were familiar with the Berwyn National Bank space and thought it would be an ideal place for sport fans to hang out.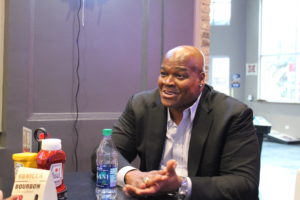 And although Frank was really thrilled at the opportunity to curate an unique dining experience for his fans, he was just as excited to build ties to the Berwyn community itself.
"We have a very diverse community here, so I wanted the bar to be as much about that as it is about the food,"said Frank. "50% of the community is of Latino and Hispanic descent. We have four chefs, but I purposely brought in two Mexican chefs that can add the local flair to the menu.  Ultimately, I wanted to be a place that everyone will feel comfortable."
Speaking of the menu, I had to ask him how much say he had in developing it.
"Oh yes, I had a hand in all of it, " he admitted. "I've always had a love for food, ever since I was a boy growing up in the South. So I wanted to have a lot of variety. I really wanted to be more upscale but with a sports bar, you have to give the fans what they love. With the current menu, I think we've got that balance. "
Frank said that his tastes runs to more simple items like burgers and salads. Therefore he made sure that there were plenty of choices for both. Right now, his favorite menu item is the Chicken Tinga Nachos.
"Although we are looking to rotate our menu items and offer seasonal things so that could change," he said.
Giving Back
As the host reminded us to wrap it up, I decided to ask Frank about the importance of giving back.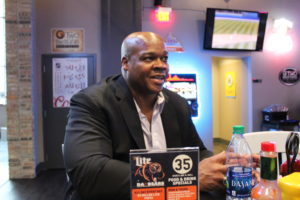 "It's definitely something that I feel strongly about. When I played here, the Frank Thomas Foundation was able to fund projects that were really important to me. Women's issues. Leukemia. Education was a big one for me, as we regularly gave out full and partial scholarships to fund a student going to college. In fact, we gave 20 students a chance to go to school with funding from our foundation."
Unfortunately, Frank had to discontinue the foundation when he found himself playing in a different city. But he is determine to get it going again as he consider philanthropy to be a big part of his life.
"It's definitely important as it's part of who I am."
At this point it was time finish our talk. Carly and I asked for a picture when I thought to ask him one last question. After explaining what the Darst Center does as well as our #BeASuperhero campaign, I asked Frank what his social justice superpower would be.
By the look on his face, he was clearly befuddled for a moment. "I know it's a crazy question, " I continued.
"My social justice superpower is making sure everyone had an equal opportunity to live their dreams. And my name would be Dr. Equal."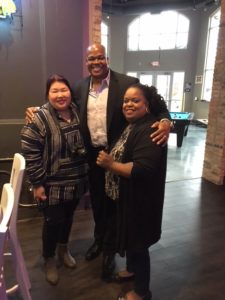 We all shared a laugh after admitting that his answer was really pretty good. Then, we were able to snag a selfie with the slugger.
Final Thoughts
As we said our goodbyes, I was struck by a few observations. One, no matter if you're a wannabe writer or a famous athlete, we all eventually find ourselves having to consider whether or not take a leap of faith. It's during those moments that we find out who we are and what's important for us. Mainly because you have to venture beyond your comfort level to create a new normal.
And that can be pretty scary.
Two, I realized that there's actually grace in the scary parts. If only because you often have to rely on something bigger than yourself to make the life change. So, in Frank's case, he connected with people like the established restaurant chain Buona Beef to give him some much needed support with the new bar. For me, that meant relying on prayer, luck and the occasional words of encouragement from my husband to get me through the lean times.
It certainly makes you grateful, as you can tell Frank was when he met with diners filing in after our interview. Every one was greeted with a smile and a handshake before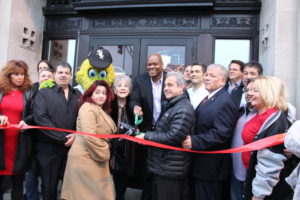 we all gathered outside to see him cut the ribbon.
You can share this story by using your social accounts: