Volunteer Good-Byes
As we near the end of the Summer, the Darst Center is officially saying goodbye to four long-term volunteers, Megan, Isiomia, Meredith, and Evelyn, who had dedicated their time and talents to our mission. From developing programming to leading our retreats to organizing our social media, these extraordinary women were essential to the Center's growth over the last few years. Below you can read a brief reflection from each volunteer on their time at the Br. David Darst Center. We have enjoyed working and learning with them at Darst and wish them all the best in the future.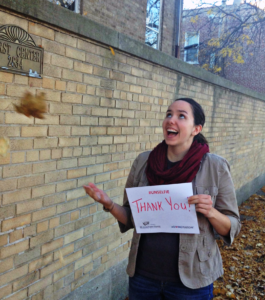 Working at the Darst Center these past two years has been such a joyful and rewarding experience. It has been an honor to journey with students as they uncover the roots of injustice, while I myself continue to learn with and from them. Everything I learned in my classes for my Master of Arts in Social Justice degree came to life while facilitating Darst Center Urban Immersion Retreats. I will be forever grateful for this opportunity to grow in my passion for social justice work and to witness so much hope among dedicated students who are creating the change they want to see in the world.
-- Megan McGuire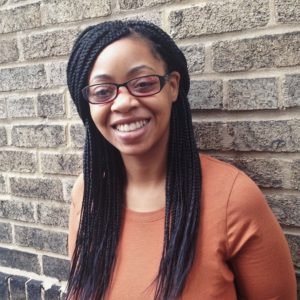 The Darst Center has opened my eyes to not only a new way of looking at the world but a new way of understanding. I have learned to listen more to others' perspective and stories. I know this new development will be beneficial not only in my professional career but also in my personal life. I will miss the laughs and the shoulders to lean on when the world seemed all too real to face alone. I appreciate each and everyone I encountered during my time here, especially Keith, Suzanne, Megan, Jennifer, Meredith, and Evelyn, each of you brought something different to my life. You're spirits are unmatched. I thank you all!
--Isioma Odum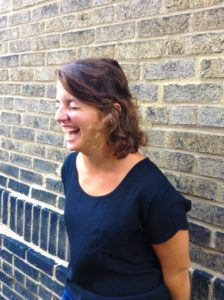 With my last day at the Darst Center looming, it is hard to not think about what this year has meant, and how the work of the Darst Center has changed my world view. Going into a new work environment is always a little nerve-wracking. But from the moment I stepped foot into the office. I knew this would be a place that would push me beyond my comfort zone and expand my worldview. When I began to work with students, Suzanne really stressed to me the importance of meeting people where they are, and knowing that it's okay if the participants aren't in a place to do in-depth system analysis. Meeting people where they are isn't an easy task, but it's a key component to having open and honest dialogues, especially on social justice.
Over the last 10 months, I have noticed a new awareness in myself. Because of the experiences I have had, through workshops, retreats, and staff development, I have a wider knowledge on a multitude of social injustices, as well as their impacts locally and nationally. As I begin the next chapter of my life, the things I've learned, the support I've gotten, and all the experiences I have gathered will stay with me, shape my perspective, in the hope that I #seeitdifferently.
--Meredith Check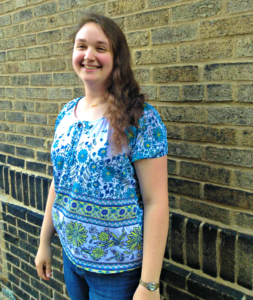 As my year of service comes to a close and my time at the Br. David Darst Center approaches the end, people have begun to ask me to name my favorite part of my job or what I have enjoyed most about my experience. I've managed to provide an answer each time, but each short summary fails to explain how much I've enjoyed working at Darst and my understanding of the importance of its mission.
The people I work with are amazing. Until beginning my year of service, I'd never been in a place where people just sat and talked about social justice. But we do that here. A lot. Just for fun. Or for venting our frustrations. Or for sharing cool facts and new ideas we've learned. And though we're often in agreement, not everyone has the same opinion about or experience with all the issues, which leads to interesting discussions. And we don't only talk about social justice. There is also serious discussion of cat videos, weird foods we've eaten, movies we've seen and/or want to see, and the excitement of traveling and living in Chicago. I particularly enjoy talking about comics, sci-fi shows, and donuts with my supervisor.
Urban Immersion Retreats are the most stressful part of my job. Making sure there's enough food, or that we all survive Chicago traffic on the way to our partner agencies, or that everyone feels comfortable enough to share their honest opinion about what we did that day can add some serious pressure. But despite all that, retreats are my favorite part of my job.
I love visiting our different partners and learning what each agency does and what social issue they were created to address. Many of these issues are ones that I had never considered deeply or had not had the opportunity to learn much about before I came to Chicago. And while the basic information covered at each agency might stay the same, every group asks different questions, which changes the discussion and makes it new.
The absolute best part of working on retreats is sitting down with students, discussing what did that day or over the week, and hearing them say "I learned something new" or "I had never made this connection before" or "I changed my opinion about (people experiencing homelessness, people who are food insecure, people with developmental disabilities, Chicago, etc)". Knowing that you have successfully introduced an idea to someone else, someone who will want to act on that idea to make a positive difference in the world, is an amazing feeling, one that I have really come to value during my time at the Darst Center.
Of course, I have learned to see things differently too. Going to a different city for a week, or a year, gives people a chance to step back, to look past the familiar, and to reevaluate what they know of the world, and I am no exception. I think more critically of why I do or say certain things, where my information comes from, and why other people around me act the way they do. Often, critical thinking means confronting hard truths about society and myself, and I have struggled with and enjoyed those revelations in turn.
On a personal level, I have gained more confidence in talking to new people. I had to guide groups of high school or college students around Chicago almost every other week for several months and talking was essential, especially at the sites where all we did was talk to people! And while I'm still not great at expressing my opinion without a chance to think things through and write it down first, I have improved at explaining and defending my ideas in conversation. The practical skills of preparing a meal for six to twenty people won't disappear in a hurry either.
I am grateful for the opportunity to spend this past year at the Darst Center; to work with the staff here, the center's board, and our partner agencies; to learn about Br. David, the Catonsville Nine, and LaSallian tradition; and to #seeitdifferently.
--Evelyn Hooper
You can share this story by using your social accounts: